Celebrate Gillman Barracks' 5th birthday on September 22 at Art After Dark.
All photos: Gillman Barracks
Contemporary arts cluster Gillman Barracks celebrates its 5th birthday with a journal launch, performances by Singaporean musicians, as well as art installations and exhibits.
The event will see the launch of Art-in-Sight, the first journal created by Gillman Barracks and Ocula. The commemorative publication will feature interviews from notable Gillman Barracks artists.
Event highlights include music performances from acclaimed musicians such as Disco Hue and StrangerFox, as well as music from Singapore based DJ's including Funk Bast*rd.
Don't miss art exhibitions like Adeel Uz-Zafar's Hell, Purgatory, and Paradise, inspired by Dante's The Divine Comedy. Uz-Zafar's exhibition will feature pieces created by etching.
Also worth checking out is Ryder Ripps' Diventare Schiavo, comprising two virtual reality experiences, Voice of God and Virtual Reality Reality. In the latter, users will receive a full body VR experience of what it feels like to be a factory worker creating VR headsets.
View part of the experience in the GIF below: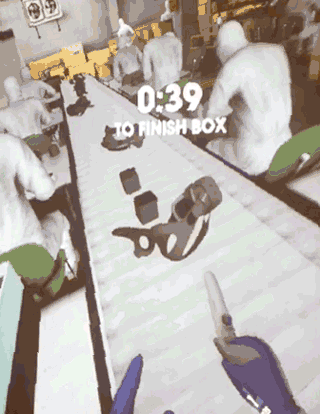 Modern Japanese Izakaya eatery, Neon Pigeon and The Lab SG will be on hand to supply food and drinks.
Gillman Barracks 5th Anniversary Celebrations x Art After Dark
Date: Friday, September 22
Time: 7pm – late
Venue: Gillman Barracks (9 Lock Road, Singapore 108937)
More information on the event here.
Read More: Kult Gallery Celebrates Filipino Street Art with "Pusakal"