We can't decide if these AR sneakers (Augmented Reality) are cool or not.
Known as the Onitsuka Tiger x Anrealage Monte Z, the AR sneakers only works with the help of an app from Anrealage.
To work the feature, users must download an app from Anrealage. With the app open, the user will have to scan the sneaker's logo using the phone camera.
According to Mashable, the Onitsuka Tiger x Anrealage Monte Z is "quite possibly the first pair of augmented reality sneakers in the world".
Despite this, the website claims that the sneakers were underwhelming – stating that both brands could have made more than just Anrealage's logo pop-up (GIF below).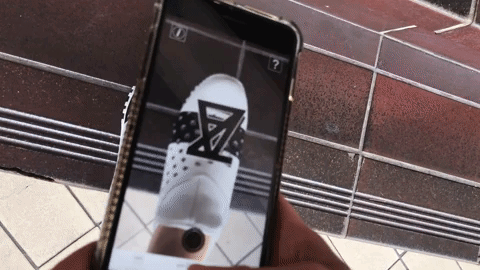 In addition, Mashable reports that the app is fairly difficult to maneuver, with the reviewer having to take several scans of the logo before getting it to work.
Other difficulties include the AR technology not working on the right shoe and that the app becomes less reactive due to factors such as wrinkle, brightness, shadow, angle, and distance," writes the website.
At the moment, it looks like the sneakers will only be available in stores in Japan (Anrealage Aoyama and Anrealage Zozotown).
A pair of the AR sneakers costs JPY15,000 (approx. S$182).
For more information visit the Anrealage website here.
Read More: Nike and Dell are Designing Shoes with Virtual Reality